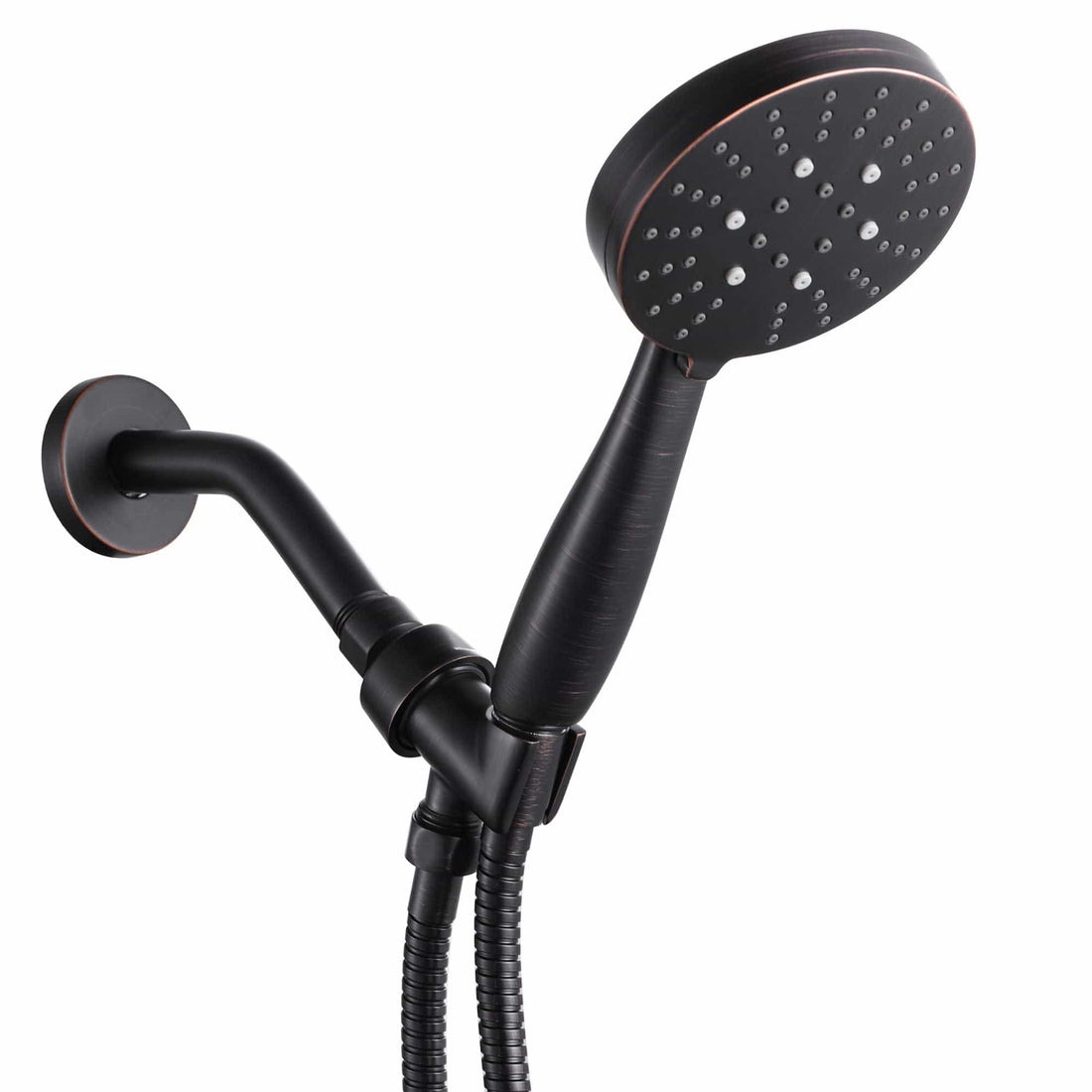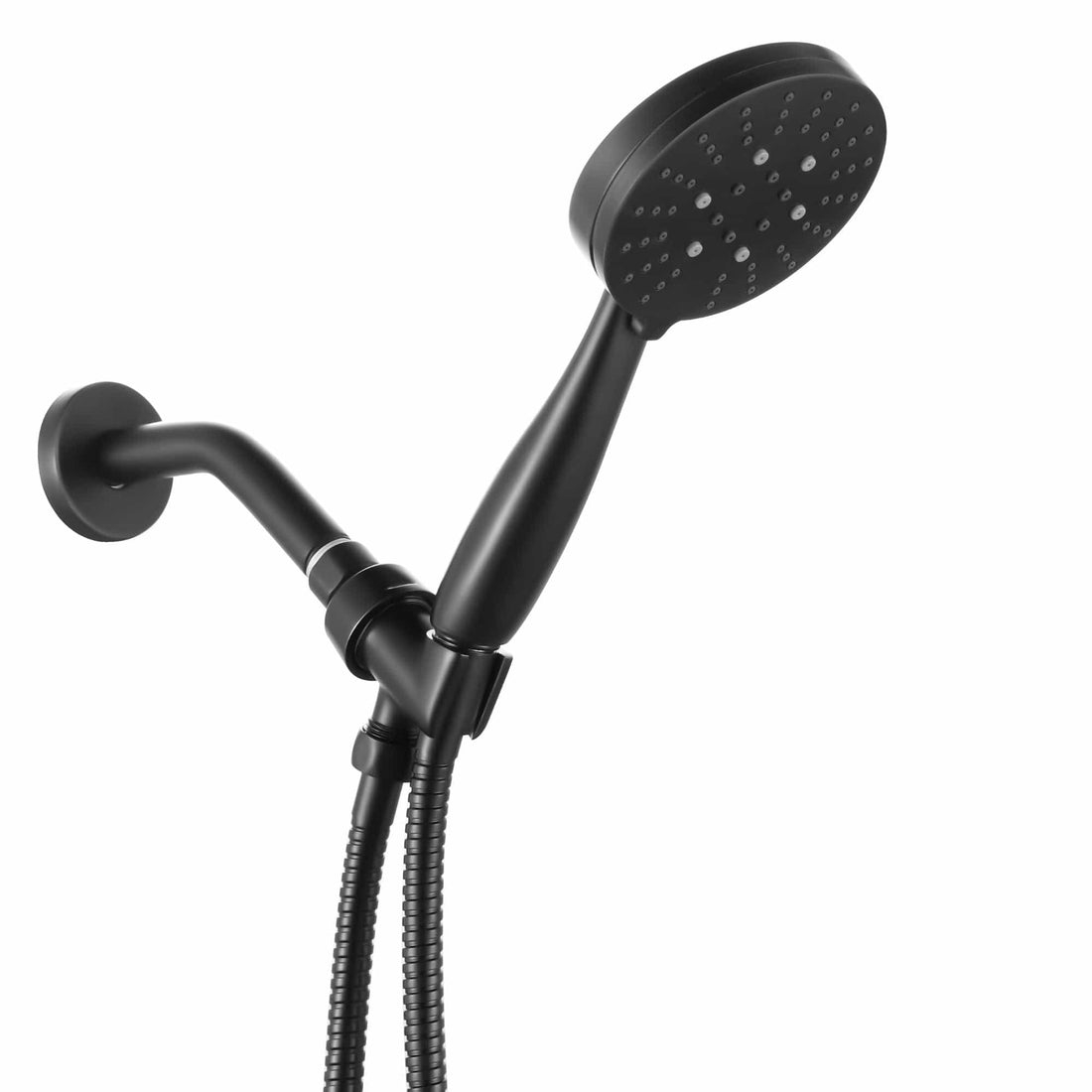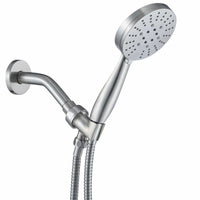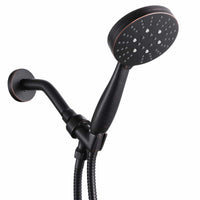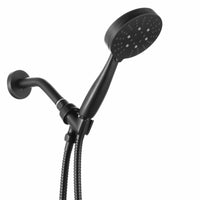 "Really great product. received in a timely fashion. Well constructed, easy to install (very good instructions) and the shower experience is great! Love the full shower mode, feels like a rainfall! In all the years of buying shower-heads, this is by far the best for the money." — George
All Metal 3-Spray Hand Held Shower Head with Hose, Set, 2.5 GPM

Expert Customer Support

Pro-Grade Shower Heads

Trusted by 90,000+ Customers

Free 2-Day Shipping

30-Day Return Policy
Description
We get it, you like options. That's why we brought you this 3-Spray Metal handheld shower head set. 
OK, that's a mouthful. Simply put, it means that we've packed three amazing spray settings into this handheld featuring the wide spray, mist and massage. Everything you need and nothing you don't. I mean, these are the spray settings that most customers asked for.
At the industry maximum 2.5 GPM flow rate, we ain't holding anything back!
Unlike plastic shower heads and components that wear out over time, our 3-function shower head is made from 304 stainless steel and brass — that is BUILT to LAST! You'd be hard pressed to find a multi-function shower head that can say the same.
Product features:
Made from the most durable 304 stainless steel and brass
3-Spray Settings: Wide, Massage, Mist
High pressure, 2.5 gallon per minute shower head
Flexible 72" metal hose with non-toxic silicone inner tube
Solid brass shower holder adjusts up to 23 degrees
Universal compatibility, installs in minutes
Industrial-grade, corrosion-resistant finish
Backed by our HammerHead Showers Limited Lifetime Warranty
Available in the California Compliant 1.75 GPM flow rate
Set includes:
3-spray handheld shower head
72" shower hose
Shower head holder
Thread seal tape

Rubber washers
DIY instructions
Transform Ordinary Showers Into Extraordinary Experiences
We've all been there. You turn on your shower, and instead of a steady, relaxing stream, you only get some dribble from the shower head, the rest leaks down the hose and spits out straight into your face because of leaky connections. You're frustrated, you've wasted your time running down to the store for a replacement, your day is ruined. Your only hope is that your next shower doesn't break again.
Why take the risk? HammerHead shower heads are high quality and built to last. That's not just a statement. Our shower heads are all metal and made from the highest quality commercial grade materials like 304 stainless steel and brass. We use cutting-edge finishing processes that far exceed industry standards to ensure our products are durable and don't break, rust, or pit easily.
Built from Metal, Built to Last
More and more frustrated people are turning away from those standard plastic shower heads that easily break, leak and cause all sorts of problems. Here we are waiting with arms wide open with our All Metal Multi Function Hand Held Shower Head Set that uses the finest metals to withstand the test of time! Using the standard 1/2" NPT threads you can be confident that this shower head is a compatible replacement for your existing shower head.
Hand Shower (304 Stainless Steel)
Our hand shower is built from 304 Stainless Steel that provides a high level of durability while also being lightweight and ergonomic. Equipped with dozens of high-heat BPA-Free silicone nozzles, they are super easy to clean any build up so you never have any cockeyed spray nozzles.
Shower Holder (Brass)
Putting the competition to shame, our solid brass shower arm mount is a true masterpiece. Using nothing but brass, each piece is meticulously molded and machined to be absolutely leak free while providing superior support for your shower head. Outfitted with 1/2" NPT threads, you can mount the bracket to all standard shower arm pipes.
Shower Hose (304 Stainless Steel, Brass)
Our super flexible metal hose has a 304 stainless steel outer coil with a non-toxic silicone inner tube for the ultimate durability and hygiene. And to ensure a leak-free seal, our 1/2" NPT hose connectors are built using solid brass.
Hotel Quality Spray Performance
Delivering the industry maximum 2.5 Gallon Per Minute flow rate, this 3-spray handheld showerhead will absolutely immerse you in water.
With a sprayer face that is 4 inches wide, you'll find a happy balance between pressure and coverage.
Performance doesn't end with the high pressure spray performance. You'll also have tremendous flexibility with our 72 inch long shower hose to reach all parts of the shower. And when you're done with the detachable shower head you can dock it back on the adjustable shower holder hook that has a swivel ball to angle the shower head exactly where you want it.
Start the day off right, finish the day strong. Showerhead bliss is awaiting!
3 Spray Functions
Easily switch between one of the three unique spray functions by rotating the dial on the showerhead face.
Wide Spray
For a fully immersing shower, go for the wide spray. The 4 inch wide shower head with 2.5 GPM flow rate that will absolutely envelop you.
Concentrated Massage
Rinsing shampoo from your hair? The high pressure, concentrated massage spray is the perfect way to handle those tougher tasks.
Gentle Mist
Cool down on a hot day with this super fine, gentle mist that makes you feel like you are standing beside a waterfall.
| | |
| --- | --- |
| Manufacturer | HammerHead Showers |
| Model # | 3F-HHS-2.5 |
| Material | Metal |
| Flow Rate | 2.5 Gallons Per Minute |
| Spray Settings | 3 |
| Shower Head Diameter | 4 Inches |
| Hose Length | 72 Inches |
| Packaging Dimensions | 9 x 4 x 1 inches |
| Shipping Weight | 2.48 pounds |
| Installation Method | Wall Mounted |
| Available Finishes | Chrome, Brushed Nickel, Oil-Rubbed Bronze, Matte Black |
| Warranty Description | Limited Lifetime Warranty |
Shipping
Expedited Shipping: 2–3 day shipping times for FREE on orders over $50 shipping inside of the continental United States.
Priority Shipping: 1–2 day shipping times for an additional $15 — available at checkout.
Standard Shipping: All orders under $50 ship via Standard Shipping with a flat fee of $5. Standard Shipping takes between 5-7 days from the time the order is placed.
Please note that if an order is placed after 2pm PDT, or over the weekend, shipment processing times will not go in effect until the following business day.
Return
We offer a 30-Day Money Back Guarantee! Whether your finish doesn't match your design or the product doesn't work for you, we'll issue the applicable refund back to the Credit Card or PayPal Account you used to make your purchase.
In order to receive a full refund for your returned product(s), we REQUIRE that you return the product(s) with all of its components in the original packaging. If your return is received missing parts or without the original packaging, you will only be eligible for a 50% refund.
Buy 2 HammerHead Products and Save 5% with Code HAMMERHEAD2
Buy 3 and Save 7% with Code HAMMERHEAD3
Buy 4 or More and Save 10% with code HAMMERHEAD4
MIX AND MATCH! Applicable in all finishes.
Built to Last. Backed by Our Warranty.
You deserve a shower head product that is in tip-top shape for every use, every day. By registering your product, you get:
Activation of your HammerHead Showers Warranty

Exclusive discounts on future purchases

Access to VIP customer service and support

Convenient maintenance reminders

New product sneak peeks before they're launched