Product Discontinued
We're sorry, we no longer sell this product! But don't worry - we have another amazing multi-function shower head you might like.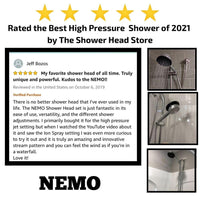 "The most amazing shower experience ever, where has the Nemo been the past 65 years of my life?" -Kate
NEMO Hand Held Shower Head with Hose and Holder | Best High Pressure Showerhead, 2.5 GPM

Expert Customer Support

Pro-Grade Shower Heads

Trusted by 90,000+ Customers

Free 2-Day Shipping

30-Day Return Policy
Description
The NEMO Hand Held Shower Head is one of Korea's Best Selling Showerheads. With its extremely High Pressure and 4 unique spray settings, it's a household name in Korea. Now, it's making its introduction to the USA.

After testing the product out at The Shower Head Store, we haven't found a close comparison when it comes to pressure. If you're looking to increase the pressure in your shower, look no further.

There are 2 main sprays that you'll find on the NEMO Shower Head - Rainfall Spray and Ionic Spray.

The Rainfall Spray is your typical wide coverage that sends water absolutely bursting out of the Shower Head. It's perfect for getting a deep clean and rinsing shampoo from your hair.

The Ionic Spray is also known as the "Healing" spray, as it features 220 spray holes that disperse the water into super fine particles. This spray releases up to 40,000 negative ions, which have a relaxing effect - similar to that of standing near a waterfall.

Changing the settings is as easy as twisting the Shower Heads, but if you're anything like us, you'll gravitate to one of the 2 main settings.
Includes: hand held shower head, 78 inch shower hose, shower head holder, thread seal tape, rubber washers and instructions
Please note, this shower head set is NOT all metal. The hand shower and holder are plastic, while the hose is metal.
NEMO Hand Held Shower Head with Hose and Holder Features:
Korea's best-rated high-pressure shower head
Pressurized ionic spray releases up to 40,000 negative ions that are optimal for stress relief and relaxation.
Easily select from 4 unique spray functions by rotating the head
Built-in ceramic water filter (Not replaceable)