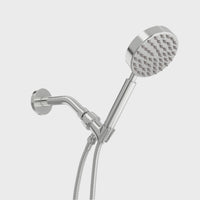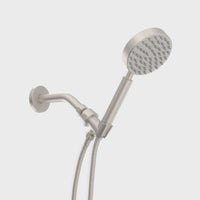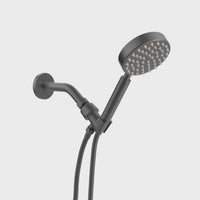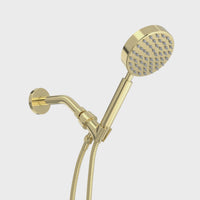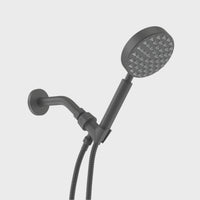 "Spent twice as much on a Hansgrohe shower head that doesn't hold a candle to this. Well built and man does it have good pressure. Couldn't be happier just ordered another for the other shower." — Richard
All Metal Handheld Shower Head Set - High Pressure 1-Spray - 2.5 GPM

Expert Customer Support

Pro-Grade Shower Heads

Trusted by 90,000+ Customers

Free 2-Day Shipping

30-Day Return Policy
Description
This is the OG, the one that started it all! We just wanted to make a simple, quality shower head that was BUILT to LAST!
Unlike plastic shower heads that break and leak, this one-of-a-kind handheld shower head is made from materials like 304 stainless steel and brass to ensure a lifetime of ultra-luxe showers.
Yes, for everyone who strolled down the aisle of the orange big box store to replace their broken shower head, only to be disappointed with the overpriced plastic — this one's for you!
While it doesn't have 58 spray settings, just one, it delivers water like a champ. Using proprietary silicone nozzles that PRESSURIZE THE WATER, you can trust that you'll get a powerful stream of water even with low household water pressure. At the industry maximum 2.5 GPM flow rate, we ain't holding anything back!
Product features:
Made from the most durable 304 stainless steel and brass
High pressure, 2.5 gallons per minute shower head

Flexible 72" metal hose with non-toxic silicone inner tube
Solid brass shower holder adjusts up to 23 degrees
Universal compatibility, installs in minutes

Industrial-grade, corrosion-resistant finish
Backed by our HammerHead Showers Limited Lifetime Warranty
Available in the California Compliant 1.75 GPM flow rate
Shipping to Canada?  Click HERE
Set includes:
Handheld shower head
72" shower hose
Shower head holder
Thread seal tape
Rubber washers
DIY instructions
Transform Ordinary Showers Into Extraordinary Experiences
We've all been there. You turn on your shower, and instead of a steady, relaxing stream, you only get some dribble from the shower head, the rest leaks down the hose and spits out straight into your face because of leaky connections. You're frustrated, you've wasted your time running down to the store for a replacement, your day is ruined. Your only hope is that your next shower doesn't break again.
Why take the risk? HammerHead shower heads are high quality and built to last. That's not just a statement. Our shower heads are all metal and made from the highest quality commercial grade materials like 304 stainless steel and brass. We use cutting-edge finishing processes that far exceed industry standards to ensure our products are durable and don't break, rust, or pit easily.
Whatever Your Style, Our Solid Metal Shower Head Designs Can Match
Go for Polished Chrome Or Brass if you prefer a versatile shiny finish; Brushed Nickel or Matte Black if you like a modern design; or Oil Rubbed Bronze if you are a rich, warm and rustic type.
Products Built To Last For A Great Value
You shouldn't be caught behind the eight-ball of the shower head market where your only choice is a cheap import or an overpriced name brand.
Our products are designed and tested in the USA – manufactured under the highest standards of quality and workmanship. But it doesn't stop there, as you can rest assured we'll always be there for you – if there are ANY issues we will fix them (without unnecessary questions).
We're on a mission to solve the issue of cheap plastic disposable shower heads that break, leak, and cause problems. As a family business, we take great pride in serving our fellow American customers.
Quality Worth Protecting
Don't you hate it when your product arrives defective? Here at HammerHead, we are serious about quality in every way, so to keep your shower set in pristine condition - it arrives in our premium protective packaging.
Included In Your All Metal Shower
Durable And Lightweight Stainless Steel Shower Head
72-Inch Flexible Stainless Steel And Brass Shower Hose
Leak-Free Universal Solid Brass Shower Holder
Washers, Plumber's Tape, Detailed Instructions
Zero Effort Cleaning
Our shower head contains dozens of high-heat BPA-Free silicone nozzles that you can wipe clean in seconds. Forget the elbow grease; with minimal effort you will never have any cockeyed spray nozzles or residue build-up again.
| | |
| --- | --- |
| Manufacturer | HammerHead Showers |
| Model # | 1F-HHS-2.5 |
| Material | Metal |
| Flow Rate | 2.5 Gallons Per Minute |
| Spray Settings | 1 |
| Shower Head Diameter | 4 inches |
| Hose Length | 72 Inches |
| Packaging Dimensions | 10.59 x 5.87 x 3.54 inches |
| Shipping Weight | 2.25 pounds |
| Installation Method | Wall Mounted |
| Available Finishes | Polished Chrome, Brushed Nickel, Oil-Rubbed Bronze, Polished Brass, Matte Black |
| Warranty Description | Limited Lifetime Warranty |
Shipping
Expedited Shipping: 2–3 day shipping times for FREE on orders over $50 shipping inside of the continental United States.
Priority Shipping: 1–2 day shipping times for an additional $15 — available at checkout.
Standard Shipping: All orders under $50 ship via Standard Shipping with a flat fee of $5. Standard Shipping takes between 5-7 days from the time the order is placed.
Please note that if an order is placed after 2pm PDT, or over the weekend, shipment processing times will not go in effect until the following business day.
Return
We offer a 30-Day Money Back Guarantee! Whether your finish doesn't match your design or the product doesn't work for you, we'll issue the applicable refund back to the Credit Card or PayPal Account you used to make your purchase.
In order to receive a full refund for your returned product(s), we REQUIRE that you return the product(s) with all of its components in the original packaging. If your return is received missing parts or without the original packaging, you will only be eligible for a 50% refund.
Buy 2 HammerHead Products and Save 5% with Code HAMMERHEAD2
Buy 3 and Save 7% with Code HAMMERHEAD3
Buy 4 or More and Save 10% with code HAMMERHEAD4
MIX AND MATCH! Applicable in all finishes.
Built to Last. Backed by Our Warranty.
You deserve a shower head product that is in tip-top shape for every use, every day. By registering your product, you get:
Activation of your HammerHead Showers Warranty

Exclusive discounts on future purchases

Access to VIP customer service and support

Convenient maintenance reminders

New product sneak peeks before they're launched